Introduction
What if a business which can be started from home, takes very little capital to start, have a super profit margin and best of all it gives you the freedom that how many hours you want to work. All these qualities in one Business, Seems impossible. However today I am back with my first Business Idea for the "Best Business Ideas 2019" series, Which ticks all the columns. This super Business Idea is called "Cloud Kitchen". In this article, we are going to talk about a new business idea, which is very flexible and popular. Any person, who is passionate about cooking or for instance, any housewife, who is very good at cooking can start this business on her own. First of all, I will explain you in few steps that why this business idea is the best, what are its merits and demerits, how much investments it requires, the competitors you will face, and how long it will take to yield profits. In short the key points on which you should focus and take care of, and how to grow or expand this business.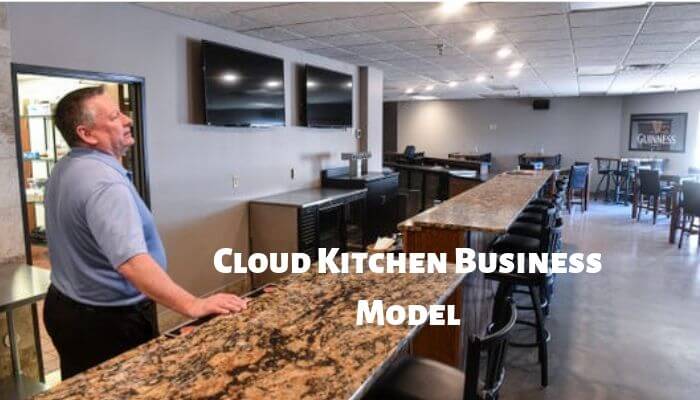 Cloud Kitchen:
Cloud Kitchen isn't like any kitchen setup on clouds in the sky, or like where the food is made online. It is called as Cloud Kitchen because the place where the food is to be made can be located in the vicinity of any surrounding areas and not necessarily to be found at any specific or main location of the business.
The basic idea of cloud kitchen is that the food is to be made and delivered anywhere in the surrounding areas of your business like online food delivery apps such as Swiggy, Zometa, food panda, etc do, but they do on larger scales.
Why Cloud kitchen is the best idea?
It's the best business idea from every angle and aspects. Because
It requires very less amount of investment.

It is not difficult and very easy to operate and carry out.

It is very flexible and the rate of profitability is very high.

It is not very difficult to expand this business.
Friends, I always tell you that whatever business you wish to start, you should have a proper interest in it and be passionate about it. In the case of Cloud Kitchen, it is not necessary that you should have a passion or know how to cook. But in initial times of this business, you can cook food by yourself, just to reduce the cost. However, if you want to expand the business then you can hire personnel to cook food under your supervision.
Another reason, why this business idea is the best is because any housewife or student can carry it out. It provides flexibility. You can either deliver breakfast or you can deliver dinner or lunch or all of it. In general, if you are living in a residential area then dinner and breakfast will be the best option to serve.
Why Cloud Kitchen is as an emerging business nowadays?
The food business is actually a very profitable business. But the only drawback is that it requires a little more investment. In the case of a restaurant business or food business, the profit margin is good but so it to serve good food each time.
Earlier, if anyone wanted to start a restaurant then, they had to make huge investments to buy a huge place, manpower, furniture, resources, and other investments. Even with all these, there was no surety that the business will succeed. And if it doesn't succeed, then it incurred huge amount of unbearable losses.
There are also some cases, where people actually serve or cooks good quality food but lacks the capital to start a restaurant. As a result, cloud kitchen is emerging as a perfect solution. Also, the rapid emergence of online food delivery centers like Swiggy, Zometa, food panda is boosting restaurant and food business, thereby aiding the growth of Cloud-Kitchens concept.

With Swiggy, Zomato and food panda, the distribution areas are now increasing and they now deliver even the smallest delivery order. So you can now start a cloud kitchen in your society if your society doesn't have any objection against it and can deliver food all over surrounding areas.

Another reason for which I recommend Cloud Kitchen is that nowadays husband and wife are both working persons. So they didn't get enough time for cooking and all stuff.

Also, the number of youngsters are migrating away from home for job opportunities, are living alone and missing home meals. Therefore, cloud kitchen can become a boon for them to have homemade food anytime.
So basically, Cloud Kitchen has now become a trend and emerging in major cities and areas. Because of those who didn't get the time to cook or for those who wish to avoid oily and spicy food and to enjoy good quality homemade food.
What type of food should be promoted through Cloud Kitchen?
The first segment of this involves less oily, healthy and good quality homemade food. Since, if you are living far from home, it is not possible to afford restaurant food every day. So through Cloud Kitchen, you can provide them with healthy and delicious daily homemade food at an affordable price and have a fixed business day to day basis.

Another option is that you can either serve to specialize in food. As if you are specialized in Bengali food, you can serve Bengali food to those who like Bengali food. Likewise, if you are specialized in Gujarati, Malvani or any other regional recipes, you can serve it to respective peoples. Also, you can serve specialized food with respect to the crowd or the locality where your business is or you live in. As if you are in the area with a majority of Gujarati people, you can prepare and deliver Gujarati food.
As earlier, I told you three different reasons for which Cloud Kitchen is emerging as a major business. First thing is that the restaurant requires a high amount of investments. Second is that new online delivery options are now available. And third and the last thing is that people nowadays are so busy that they don't have enough time to cook, and these opportunities are increasing day by day.
Now I will explain how much investment it takes to start and run cloud kitchen.
How much investment does it require to start a Cloud Kitchen?
Friends, you can initially start with a small Cloud Kitchen. Definitely, you have to be a little professional at first. Don't get involved in starting a restaurant. Since the location doesn't matter, you can start with your house kitchen. You definitely had to spend or invest from 1 lakh to 1.5 lakhs to do proper arrangements and buy kitchenware.
If your kitchen isn't that feasible then you can set up a kitchen in any room or house by doing minor adjustments and modifications. Even, you can buy a 10 X 10 or 20 X20 room or shop in the beginning. But don't ever get involved in the restaurant at the initial level; As it requires a huge investment and resources.
Important things to look after, while doing Cloud Kitchen:
In cloud kitchen, as you are preparing and delivering homemade food, the most important thing you should take care of is the quality and quantity of the food. Both quality and quantity are important to Indian peoples. And as you are saving a lot of money, you can provide good quality food at affordable prices.
Initially, your focus should be to deliver good quality food at affordable prices. As this good quality food reaches to more and more people, they will start to recommend each other and this word of mouth will serve as initial advertising and marketing for you. Also, don't think about profit at first. Your focus should be to attract more customers and quantity. And the food business is definitely a profitable business.
The third most important thing is the problems you might face. If you are passionate then there is no problem but if you are not then you might face some problems. First, you have to be considerate about the quality of your food. Since there is no direct contact between you and your customer, your food quality is the first priority to be matter.
As in cases of the restaurant, even if the restaurant is well designed, the staff is well-dressed and services are good, but if the food there isn't good enough then no one will ever pay a visit there again. But in cloud kitchen, there is no need to be worried about staff and services, the only thing matter is the taste and quality of the food you present. With such good quality food, you can even be competing against restaurant and hotels.
And with an increase in orders due to such good quality food, you have to make even more investment. But friends, one of the merits of this business is the investment returns. With an increase in orders all your investment will pay off within a period of 2-3 months and you will be earning profits from the start of 3 months.
Competition in Cloud Kitchen:
Since Cloud Kitchen is an online business, you have to compete with other online businesses. But the thing is that no one compromises with the quality of food. People don't care about the prices of food as long as they are having good quality food. So again the most important thing in Cloud Kitchen is the quality of the food.
Profit Margin in Cloud Kitchen:
The initial profit margin will be a bit low, because at the beginning you have to provide food at affordable prices, introduce new schemes and discounts, marketing, advertising, etc. So initially the profit margin will be a bit low but after a certain period, you can easily earn about 40-50% of the profit.

How to expand cloud kitchen business?
The good thing about cloud kitchen is that, if your one cloud kitchen successfully works out, then all you have to do is to copy and set up it in at another location as it is. As one cloud kitchen covers usually an area of approximately 12 km, but if you want to increase your coverage then you have to set up another cloud kitchen.
As I said earlier, the best thing about cloud kitchen is replication, you can replicate the existing one to set up another one and if any person at your kitchen properly learns how to organize or to cook, then he can teach another person. And thereby, you can employ them at another kitchen of yours. Similarly, you can set up a third kitchen, fourth kitchen and can expand as much as you want.
As all the business of cloud kitchen is carrying out online, you can have the track of a number of orders you are getting from which place and in what time. Also, you can get feedback from your customers by giving them discounts and cash-backs.
And friends, please pay attention to the feedback of your customers, it is really very important.
After a specific period of time, you have to work less and manage more. You have to pay attention to things taking place inside the business. In case of food issues, if you serve someone a good quality food 10 times, but by mistake a little less one time. Then that person in spite of having good food many times may never ever order again. So that's the risk my friends in food an restaurant business hence food quality has to be consistent.
But it also proves to be a great risk. You have to control the quality of the food. This is because people will not talk about the good quality of food you served 10 times. But if by mistake a low quality one time, then as the habit, they will focus on that one time and may even post about it on social media, which will result in negative feedback. So take care of the quality of food and management.
Conclusion:
As a result, cloud kitchen proves to be a not very competitive business, as it isn't possible for anyone to cook and provide less oily, healthy and good quality food in affordable prices and deliver it at the same time.
Therefore, if you want to start a Cloud Kitchen, then you should be passionate about it. You should feel satisfaction whenever someone praises the food; you made or order food from your kitchen. So if you have these things, then the cloud kitchen is the best business for you.
I mean, think as you are a housewife and very good at cooking then why cook only for your family. Through Cloud kitchen, you will get a chance to show you cooking and culinary skills. Not only this, it will give you a spiritual satisfaction as well.
People now days are migrating from their hometown to different cities and towns. And there they have everything but not a good quality homemade food. Therefore, Cloud kitchen will become a boon for them. And not only you will earn money but you will have their blessings for giving them such a magnificent homemade food.
At last, there are great opportunities for Cloud Kitchens everywhere. Although there are many restaurants and kitchens, very less of them provide better and healthy food. So the requirements for a good cloud kitchen are huge.  
So, friends, this was the first best business idea of 2019 – Cloud Kitchen. If you have any query then please let us know through the comments. If you have any problems related to the initial establishment of your business or want some tips or guidance on how to maintain cleanliness, organization, certifications, and registration regarding cloud kitchen business then do ask us. We will be glad to help you!