Limited Liability Partnership or LLP can be wind up after filing required documents to ROC. As compared to the closure of a company, The compliance is closing of LLP is trickier; Consult our Experts to get the best possible way to wind up LLP without any hassles. We will ensure it could be done in minimum possible expenses and timeline. We also offer to follow up services to ensure all due diligence are done so that you can complete assurance and peace of mind.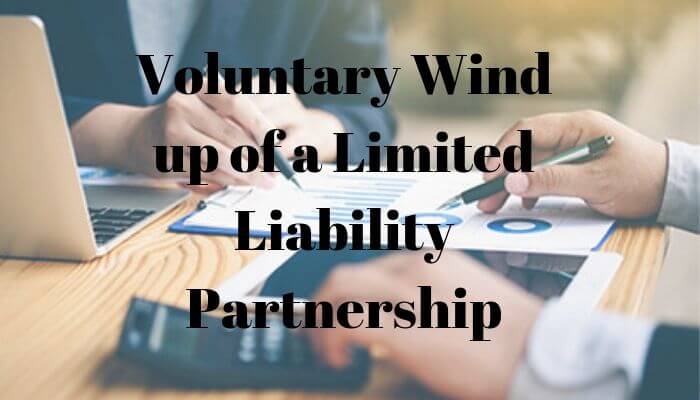 Limited Liability Partnership or LLP is a kind of partnership with limited liability concepts. We have explained about it is step no-1.  An LLP can be dissolved if:- 
There is no business activity from quite some time

Partners are not willing to continue

The purpose (Like project or work) for which LLP was formed is completed

The LLP has become bankrupt

The LLP has defunct due to non-filing of compliance documents

There is only one partner remained after the death of other partner and no other partners are added.

By court order
Whatever may be the reason, once you decided to close an LLP, You should file the required documents within 30 days of such events. In case of failure to do so, you and your partners may face penal action from ROC and concerned departments.
Procedure to close an LLP voluntarily:
If partners have decided to wind up an LLP, then it is called Voluntary dissolution or Windup. The following are steps that need to be taken to close an LLP.
Step 1:-Pass a resolution with confirmation from at least 3/4th of Partners
Step2:- File Copy of Resolution to the registrar within 30 days in form1
Step3:- Majority of Designated partners (Minimum 2) Shall Make a declaration that LLP has no debt or if there is any debt it will be paid within one year of commencement of winding up.

Step4:- The above Form and affidavit are to be submitted to the registrar within 15 days of the resolution along with form a statement saying that such winding up is not being done to defraud anyone, form no .4 and a report of the value of the assets of the LLP.
Step 5:- If there are unpaid creditors then obtain consent from at least 2/3rds of the creditors in terms of value.
Step 6:-File the creditors' consent within an appropriate timeline. Advertise in Local Newspaper within 14 days of receiving such consent. In case the LLP has liability increasing and assets then the appointment of a liquidator is required and a liquidator's statement in form 6 needs to be filed.
Step 7:-File finalized Accounts in form 9 once all the formalities are completed.
It seems too complicated? Take the expert services
Consult with our experts to get your LLP wind up done without much hassle