Branding for SMEs
We Thinks Building a brand is costly affairs and only means for big corporations, However, it is just a myth even a small business can build its brand and enjoy  Customer loyalty, boost sales & earn a super profit. Learn here, how you can multiply your sales many folds and earn a super profit by creating and promoting your Brand.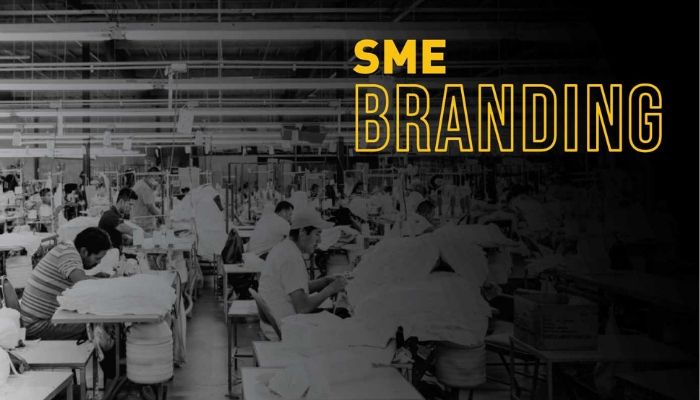 Branding can be defined as the process of creating a name or symbol along with an associated unique image in the customers' mind using various tactical tools like advertising, social media and merchandising, with a consistent theme over a long period of time.
When you talk about brands, you may think of the traditional Cola wars or the billion dollars spent on advertising by multinational organizations during a cricket match. But, how is branding relevant to a small business like yours?
Let us understand why you need branding and how can you implement a comprehensive long term branding strategy for your business.
Why Branding?
Stand Out from the Crowd: A good branding strategy helps you deliver a clear message to your target audience This further helps you stand out from the competition. Take the example of Indigo airlines. Today when there are plenty of domestic airlines for you to choose from, Indigo has established a clear brand positioning as an 'on-time' economy domestic flight service. On-time service is definitely an important need of the travelers that the airlines brand has decided to offer. Their advertising campaign is fundamentally backed by superior customer service that creates a hassle-free experience for the customer.
Build an Emotional Connect with the Target Segment: Apart from creating differentiation, a good brand message aims to develop an emotional connect with the audience. For example, an animated brand personality given to 'Appy fizz' bottle lends this Parle Agro brand a cool and amicable personality.T his live brand personality strikes a chord with its young target audience. The champagne shaped bottle further enhances the youthful brand positioning for this sparkling apple drink brand.
Enjoy Customer Loyalty and Super Normal Profits: An effective branding strategy can help you to retain customers and build customer loyalty. Let's take the example of Flipkart. The current e-commerce scenario is price sensitive. The Flipkart brand effectively positioned children dressed as adults in the advertisement that brought more visibility and trust to the brand. Hence, customers are likely to purchase from Flipkart than other e-commerce portals offering cheaper alternatives.
Hence, you can command a superior price if your brand enjoys brand loyal customer. It is safe to say that branding overrules price wars and can hence help you earn the supernormal profit. The Apple and Dell brands are classic cases of brand loyalty. Though there are many cheaper alternatives available, the Apple brand loyalist sticks to the products from Apple stores.
How to Build a Branding Strategy?
You firstly need to understand that what unique benefits does your brand offer to its target segments. Your branding strategy is not only limited to your customers. It can also be applied to other stakeholders in your organization. Take the example of one of India's most trusted brands TATA. This multi-billion brand means different things to different segments. It speaks of reliability and quality to its customers, security, and growth to its employees and steady growth in profits to its investors. Develop a branding message for each segment and finally decide on branding elements that can help you communicate your message.
Use Branding Elements to tell Your Brand Story:
You need to integrate your brand story with every customer touchpoint. Some brand elements that can deliver your brand message are as follows:
Distinct Logo creation:
Your logo should express the values of your brand. It plays a critical role in establishing your brand identity. The logo should be simple to associate to and yet create enough to be memorable. Take the example of the simple swoosh logo of Nike that is used in billboards and other brand visibility medium. It simple but it communicates the athletic image of Nike.
Color Branding:
Colors can make a huge impact on your brand image as they can increase brand recognition by 80%. These visual components are most memorable and hence are important aspects of brand communication. There is research that proves that most of the times people decide their attraction to a message based on the color scheme. Check out the monochromatic branding of Apple and the simple white and blue colors of Facebook that makes these brands minimalist and yet appealing.
Stationeries and Merchandise:
Using pre-printed stationary with your company's brand, like pens, note pads, etc., and other branding merchandise like coffee cups, T-shirts, etc. can help build your brand visibility and also develop customer loyalty.
Take the expert Advice on Brand Building?
 At AKT Associate, our team of seasoned experts offers you Brand Analysis service, wherein we understand the current image of your brand vis-à-vis competition and the brand positioning statement. Hire our Brand building Advisory Team to develop a comprehensive and effective brand strategy today.
Services provided by us:
Brand recognition and positioning

Brand Promotions

Brand related advisory

Brand building exercise before listing