Filing a legal case is not a very welcome experience, but sometimes it becomes necessary to take a stand when all the negotiations fail. You might be worried about time, money and energy the case will consume. However, appointing a trusted and expert lawyer could half your worries. It is to be left in the hands of your abled lawyers, who would assist and fight your case in the court of law, and also follow up and update you regarding the status of the same.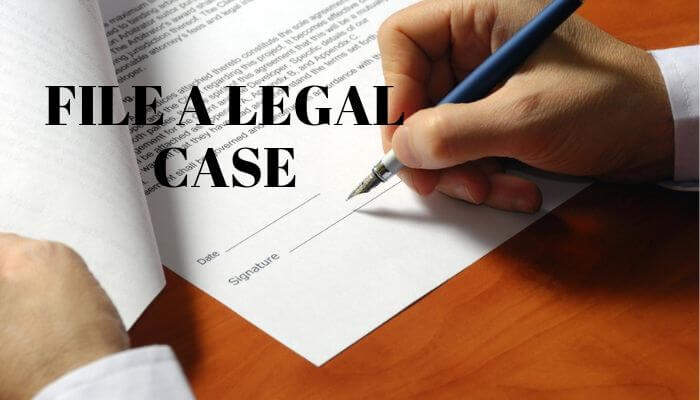 How to choose your lawyer?
Well, choosing a lawyer depends upon the subject your case or dispute falls under. Law is very vast, and thus there are lawyers who practice in different areas, so it is always better to approach a law firm having different practice areas.
Some checkpoints:-
See if your lawyer is willing to understand your case and your side.

See if the fees of your lawyer fit your budget.

See if your lawyer has enough interest and knowledge about the kind of case you are filing.

See if he is receptive and what remedies he says are possible for you to get from a court.

Understand if he is providing you unbiased advice putting your interest first.

Understand all the charges including out of pocket expenses that need to be paid during the case. Get Clear idea on any hidden charges or fees.
Satisfy yourself before going ahead, because you might run your case by choosing a wrong lawyer.
What should you do before filing a legal case?
Here are few check-points to keep in mind before going ahead with the filing of a legal case:
Try to solve the dispute amicably and try for outside court settlement by going for arbitration or mediation, by taking the help of your lawyer.

If, all the amicable means are exhausted, go ahead with the decision to file a case and have a trusted and expert lawyer with you.

Keep with yourself every document that pertains to the dispute, from the contracts to phone details, emails to letters exchanged, SMS to every communication you have made in that regard to get your dispute solved.

Try to have original invoices, receipts, bills, cheques, etc… in short, everything that relates to your case and dispute.

In case you do not have the original copies, then go for the photocopies of the relevant documents, scan copies, etc…

Discuss your case with a lawyer, who shall tell you about what are the possible remedies that pertain to your case and which you might get.

Get your facts clear! Do not forget to have your facts of the dispute or history of the dispute well written, just in case to keep it for your lawyer's convenience.
Some scenarios were filing a case is evitable and quick action can help?
If your business is getting affected by unfair trade practice or wrongful practices in the market- Your lawyer can plead to the court to step in and check if any other

business enterprise

is using wrongful techniques to allure customers, hampering your business, but such activity must be unlawful.

If someone is using your ideas and earning out of it- Your lawyer can seek remedy under the intellectual property rights and if the other party is seen infringing your rights, the court can ask his business operations to be shut to the extent it is infringing your rights. Reliefs such as injunction, compensation, etc are available to the innocent party.

How AKT Associates can help you?
Drafting a legal notice- not a child's play:

– Drafting legal notices may sound something easy, but don't follow your instincts because when it is a legal matter, let the known one handle it! Legal intricacies and minute details are necessary to be dealt with smartly.

Veterans in law:

– AKT Associates have with them top-notch experienced lawyers gives who gives you best legal assistance and prompt replies. The lawyers with above 20 years of experience are there to help you, what else could you ask for?

Pocket-Friendly, yet perfect advice:

–

AKT Associates

has qualified experts which include CA, CS, M.B.A & LL.B so your problem is not looked after by just one expert but a team of experts at the cost of one. The most appealing part of AKT Associates is that the Cost Charged by AKT Associates is 70% less than the amount charged by the rest of the firms in this area.
Distances- no more a hassle:

– The services of the firm are performed and delivered by using the cutting edge technology which makes the AKT Associates always available & delivers services right in your email. So it doesn't matter where you are because we are always just a click away.