What is the Memorandum of Understanding?
A memorandum of understanding (MOU) is a legal document explaining the bilateral agreement amongst the parties. It is a convergence of will between the parties, indicating an intended common line of an act, rather than a legal commitment. Memorandum of Understanding is not legally binding document but they certainly carry a degree of seriousness and mutual respect, stronger than a gentlemen's agreement. 
A memorandum of understanding (MOU) is a formal deal describing the broad outlines of an agreement that two or more parties have reached through negotiations. It is not a legal obligatory document but it denotes the intention of all parties to move forward with a contract.
Usually, Memorandum of Understanding is the first step towards a legal contract. In countries like the United States, a memorandum of understanding is identical with a letter of intent, which is a form of a non-binding written agreement that implies a binding contract is to come up. Memorandum of Understanding is admired in multinational international relations because they do not take a lot of time like treaties to get ratified instead they can be executed in a short time and can be easily kept confidential. Memorandum of Understanding can also be used for modifying existing treaties.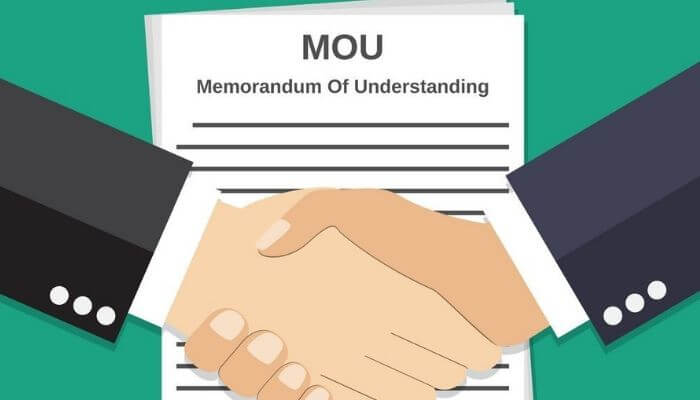 Therefore, sometimes these are preferred over a contract.
Why Memorandum of Understanding?
One would think that way to put an effort into putting together a Memorandum of Understanding, that too when it is not an enforceable document. However, in some cases, it is mandatory to have a Memorandum of Understanding, for example when the housing authorities negotiate with tenants. Though the Memorandum holds a lot of potential power because of the time and energy invested in it because it is a sort of mutual agreement on which the parties reach after going thru the pros and cons of the deal. In these form of situations, the of a Memorandum of Understanding is very appealing because it's comparatively simple and direct and does not have complex and combative standard terms and conditions like a contract.
MOU is also preferred because of the following reasons. It provides insights into the
following:
 Clarifies the interest of each party
 Role of the party
 Decision-making powers
 Terms for future Amendments
 Non-Disclosures
 Non-Competence
 Confidentiality
 Profit-sharing
 financial ratio
 Exit clause
A process of Creating a Memorandum of Understanding
The process is quite straight forward, usually, it starts with the planning or say by determining what they want or want the other party to do, what they are ready to negotiate on and the rationale of the memorandum of understanding, in other words, it spells out the common intentions of the parties;

One the initial drafting is done the representatives of the parties must have a meeting to negotiate and also haggle over the terms of the memorandum;

Sometimes people prefer to mention the communication details of the parties and how their interests are linked;

Also the contact details of the representatives and their powers;

Also, describe the details of the methods of dispute resolution;

Time period since when till when the memorandum will be in effect etc.
All these terms look same as of a contract but again the point is they are binding and Memorandum of understanding is not.
Contents of Memorandum of Understanding
Name of the Parties;

Address of the Parties;

Purpose of Memorandum of Understanding;

Roles and Responsibilities of parties:-

 Clearly explain and delineate the agreed upon roles and responsibilities of each organization or agency. The roles and responsibilities must also align with project goals, objectives and target outputs. This may include time commitment, training, workshops, etc;

Reporting Requirement:–

 Like which is report is to be submitted by which party and when;

Funding:–

 That how the funds will be arranged;

Time Frame:-

 From when to when this Memorandum of Understanding will be in effect;

Confidentiality:-

 all parties to the memorandum of understanding should agree to adhere to the confidentiality  expectations ;

The Memorandum of Understanding must be signed by all the partners and the signatories must be officially authorized to sign on behalf of the agency and include title and agency name.
When do you need a Memorandum of Understanding?
A Memorandum of Understanding is generally used when you present a request for application involving collaborative partners that agree to offer a non-financial exchange that will enhance the project. It can be said as a medium for establishing partnership relation.
For Instance: – A work station for an out-stationed advocate and workshop for staff/volunteers.
Disadvantages of MOU
The Disadvantage of MOU over the legally binding agreement is that When MOU gets scrutinized in the event of a discrepancy between the parties, maximum attention is given to the language. The language of an MOU must indicate a non-binding agreement avoiding all contractual formalities.