Introduction
the inception of Company Act 2013, a new concept of significant importance known as the One Person Company(OPC) was introduced. Earlier, it was not possible for a single person to form a company. At least 2 directors and members were required to form a Private Company and at least 3 directors and 7 members were required to form a Public Company.
However, it has now become possible for a person to form a company with just only 1 director and 1 member, as per section 2(62) of the Company Act, 2013. And the compliances required to be fulfilled for such company are much less than as compared to the compliances for a Private Company.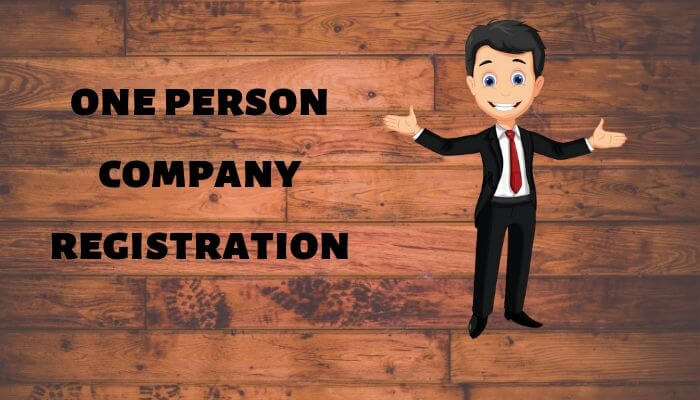 Process for Registration of OPC : 
Step 1:  First apply for Digital Signature Certificate (DSC)
Step 2: Then apply for Director Identification Number (DIN)
Step 3: Name Approval Application for Company's Name.
Step 4: The Documents Required for Registration.
Step 5: Filing Forms with Ministry of Corporate Affairs (MCA)
Step 6: The Issuance of certificate of Incorporation
Note: DSC and DIN are not needed for Name Availability under RUN (Reserve Unique Name) web service. This can also be done through MCA portal by Account Login. 
One Person Company :
Application for DSC (Digital Signature Certificate): 
Following documents are required to obtain the proposed director's Digital Signature Certificate : 
Aadhaar card

Address Proof

Phone Number

PAN card

Email Address 

Photo
After the formation of DSC, the name and address proof of the proposed director is required to apply for DIN (Director Identification Certificate) in SPICe form. For existing companies, only Form DIR-3 is available. This says that the applicant is not required to file Form DIR-3 separately with effect from Jan 2018. As well as, the DIN for up to 3 directors can also be applied within SPICe form. 
Application of Name Approval :
Deciding the name of the company is the next step in incorporating an OPC. The format for the company name will be as "ABC(OPC) Private Limited"One can get Name Approval by applying in Form SPICe 32 or by use of RUN web service of MCA to get one preferred name. And these are the only two methods to do so. But now, it is possible to have two proposed names and one RSUB (Resubmission ) for reservations of unique names, as allowed by the ministry itself, with effect from 23rd March 2018. 
We can move further to the next step, after the name approved by the Ministry of Current Affairs (MCA) : 
The Documents Required for Registration :
Following are the documents required to be prepared before submitting to the ROC 
The Company will first require "The Memorandum of Association (MOA )" consisting of object clauses, stating the principal business for which the company is formed and all the objects to be followed by the Company.

The Company will then require "Article of Association (AOA)", defining the purpose of Company and specifying the regulations for the operations going to be carried out by the company. 

A nominee is then needed to be appointed on the behalf of the proposed director or member, in case if anything happens to them, the nominee will carry out the duties on their behalf because there are only 1 director and member. The consent of nominee will be taken along with his Aadhar Card and PAN, in the Form NIC-3. 

The documents for the ownership of the proposed company's registered office and a NOC (No-Objection Certificate) from the owner will be required as proof. 

The proposed director's Affidavit and Consent of Form DIR-2 and Form INC-9 is a  must. 

As a proof certifying that all compliances are made, a declaration certificate by the professionals is needed too.
Filing of forms with Ministry of Current Affairs (MCA) :
Along with the director's and the professional's DSC, the above-mentioned documents will be then attached to Form SPICe, SPICe-MOA, and SPICe-AOA and uploaded at the MCA site or portal for approval. Once the documents are uploaded, the PAN and TAN for the company which has to be uploaded to the MCA after affixing the proposed director's Digital Signature Certificate will be generated just after the Form 49A and 49B is generated. 
The Issuance of the certificate of Incorporation : 
The Certificate of Incorporation will be issued by the ROC (Registrar of Companies), as soon as, all the uploaded documents are verified. And once all the documents are verified, our business can be started.  
Frequently Asked Questions (FAQs) :
What is the eligibility to become a member of an OPC? 
To act as a member or nominee of an OPC, a person should be a citizen of India and Resident In India. Only then, he is allowed to be a member of OPC. In the above statement, a person who has stayed in India for a duration of 182 days or more during the immediately preceding one financial year, is known as "Resident In India". 
In how many OPCs, a person is allowed to be a member? 
A person is allowed to be member or nominee of only one OPC, no more, no less!
On forming an OPC, is there any tax advantage available? 
OPC doesn't have any kind of tax advantage. The tax is applied on OPC same as on any other form of company, which is flat 30%, not to forget MAT and DDT applies the same as well. 
Does OPC have any threshold limits for being getting converted into any public or private company? 
If the OPC's immediately preceding three consecutive financial year's average annual turnover exceeds not less than 2 crore rupees and the paid-up share capital of OPC exceeds 50 lakh rupees, then the One Person Company is under an obligation to necessarily get converted into either public or private form.
What are the compliances an OPC needs necessarily to follow? 
The compliances mandatory for an OPC are as explained below :
One Board Meeting is must to be held within each half of the Calendar year and a time gap of at least 90 days should be between the two board meetings. 

Books of Accounts should be made and maintained properly.  

Financial Statements should be audited precisely. 

Before 30th September of each and every year, there should be the proper filing of business income tax returns. 

ROC Annual Return should be necessarily filed in Form MGT 7, whereas the financial statements should be filed in Form AOC- 4. 
Who is not eligible to form a One Person Company? 
A person, who is a minor (having age of fewer than 18 years) is not eligible for forming or becoming a member of OPC.
A person who is a foreign citizen.

A Non-Resident Citizen. 

A person being incapacitated by contract.
How can an OPC be converted to Private Ltd? Company? 
An OPC needs to meet certain requirements or parameters, in order to get mandatorily converted into a Private Limited Company. They are : 
The paid-up share capital of OPC should be exceeding above fifty lakh rupees.

The average annual turnover of the immediately preceding 3 consecutive financial years should be more than two crore rupees. 
As for the above case, a period of six months is given for a One Person Company to mandatorily convert itself into a Public or Private Company.

What are the requirements for the voluntary conversion of an OPC into a Private Ltd Company?
An OPC can be converted into either Public or Private Company, only after 2 years of getting incorporated, but not before 2 years. 

If the time period is elapsed, an OPC can apply for the conversion, once the duration of 2 years from the date of incorporation is completed. 

Under Sec 18 and Rule 7(4) of the Companies Rules of 2014, the Company Act of 2013 laid down some rules and regulations, according to which the process of conversion should be carried out. 
So now we are familiar with what exactly a One Person Company is, along with the process for registration of such company. Not only this, but we have also have seen all the rules and regulations along with the necessary compliances to be fulfilled for OPC and the conversion process of OPC into Public or Private Company too.
That being said, if you have any queries or doubts about OPC or the establishment and working of OPC or any other doubts, then do ask us through the comments below!