For the apply of Registration of shop or establishment, one required to follow the procedure as per Act covering major areas as per each state act and consider all procedure for its submission or revoke of application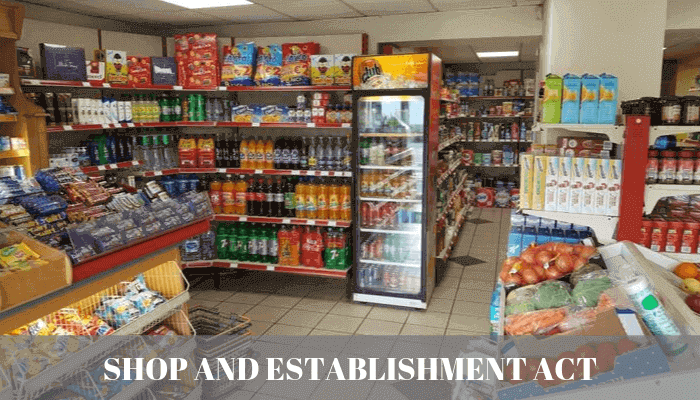 Object to make this shop act(State  Act):
Most businesses in India are regulated by the Shop and Establishment Act enacted by every state in India. It was designed to regulate or control the payment of wages, hours of work, leave days, holidays for which absence will be there, and other work-related matter that can be raised under this act.
Every state: 
As every state has its own ACT, let us have a look at the following examples of State Act:
Karnataka Shop and Establishment Act

Mumbai Shop and Establishment Act

 

 

New Delhi Shop and Establishment Act

Tamil Nadu Shop and Establishment Act
This act is enacted by each state so it may be slight differences from state to state.
Difference between Shop and Establishment
As per the act, premises meaning that where goods are sold either by retail or wholesale or where services are rendered to customers and that also includes office, a store-room, godown, warehouse or workhouse or workplace. 

The establishment is defined by the:- shop, a commercial place, residential hotel, restaurant full area, eating-house place, theatre or other places of public area amusement or entertainment are covered herewith.
When to file an application for Registration for shop /Establishment:
 One needs to file for registration to obtain a license under this Act, within 30 days of commencement of the establishment or shop covering under this act.
Shop and Establishment Act covers major key areas:
It regulates many aspects relating to the operation of a shop or commercial establishment. We will discuss here the following key areas that are:
Prohibition of employment of children
With a view to curb the minor child in employment, it is also one of the steps to Eradicate the Child labor employment in so effective manner. So accordingly, this Shop act has been enacted to regulate child labor a great and possible extent.
Employment of young person or women:
One of the main and huge objects of this act to not only establish this act with the regulation of commercial activities carrying out anywhere but also to be a contributor in the achievement of India Long Term Objective that is Give employment to the youngest man and women.
Opening and closing hours
There must be regulation on the working hours of the employed person either of any designation with the object to avoid misutilization or Unhealthy working environment.
In every working area either it is Industry or a company, a norm are established in normal rules is to provide reasonable leaves to workers of any stage in consideration of monetary terms called as wages. So So, There must be wages for holidays that must be well defined in the act.
Time and conditions of payment of wages
A certain time and conditions relevant to payment are defined in the act.
With a view to providing rest hours, a close day concept has been defined under the act
The object behind is to make workers be efficient in the working days and effective in productivity as well so the concept of the weekly holiday has been made.
A flexible working hour has been designed so as to evaluate the best efficiency working attitude of workers.
Interval for rest and meals 
During the working days, Rest and meals hours is one of the parts of this act to provide a freely working mode in an efficient way
If any terms & conditions are violated as per company or industry norms then it is pre intimated to the workers to deduct a certain amount from their wages may be either as a penalty for violating certain norms
It means that working persons may be rusticated or dismissal from the relevant jobs, it may be due to employment terms and conditions or as punishment.
License on-premises  through Shop &  Establishment Act:
For the purpose of obtaining License by any person, one must have to apply to the Chief Inspector for a Shop and Establishment Act License within the prescribed time. The prescribed application form must be filed containing the feature of the establishments namely, Name, Address, category of the establishment. After submission of Application, this application will be reviewed by Chief Inspector and then after approval of the shop or commercial establishment application, shop or commercial establishment will be registered and a registration certificate will be issued to the occupier.
Display of Registration Certificate
Registration certificate must be properly displayed at a shop or commercial establishment for which the relevant registration is required to be taken from Chief Officer.
Renewal policy of Registration 
As per the act. Registration must be renewed periodically so as to make it effective for the relevant period of time while complying all the provisions of the Shop and Establishment. It means that registration must be renewed before 30 days from the expiry of the year i.e., by 1st December of every year.

Closure(Shut Down ) of the business
If shop or establishment likely or want to close or shut down their business, then the occupier must intimate the Chief Inspector regarding the closure of the business in 15 days of closing the shop or Establishment as the case may be.