When doing business Brand Matters, However, it takes years with lots of money and efforts to build a brand. If you don't want to wait so long to build your own brand you can take franchise of an established brand.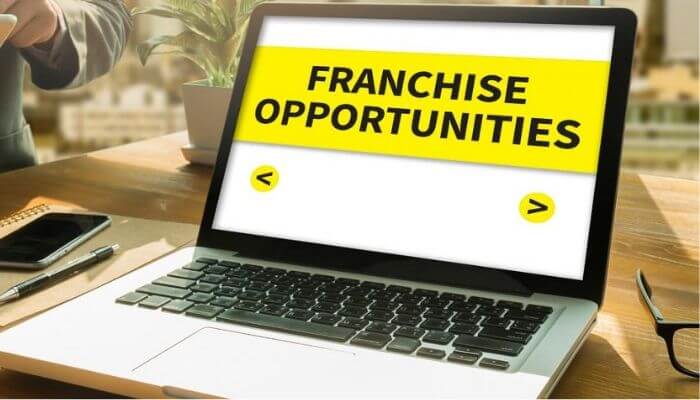 Franchising offers a ready to use a brand and ready to implement business operations. Hence Franchisee helps them to own their own business whilst at the same time minimizing the risk that is natural in opening an exclusively new business from scratch.
You might have seen many examples where the brand may be the main reason for business failure. For example, impressed by Dominos, many local businessmen started the PIZZA concept however very few succeeded, At the same time Domino's franchisee store are spinning silver.
Franchising enables you to become involved as part of a company that has established a well-tried and tested arrangement of the business system and has achieved some market share and reputed name awareness. If you are starting a business as a self-employed person you will surely make mistakes which definitely will be costly for business if not disastrous. An established franchise will have ironed out those problems. They will have a predefined and specified written system contained within the franchise manuals as to how to operate and manage the business so as to achieve maximum sales and profitability from day one. It is effectively the name awareness of the brand in the minds of clients and the well-defined system that you are paying for.
One of the most important aspects of becoming a franchise is that help is on your hand at every stage. The Franchisor will make available to you initial training, launch and marketing support, assistance and day to day help in formulating the marketing strategy for placing the product or service in the market. The fact is that as a franchise you are in business for yourself but not by yourself. It is a major factor which has contributed to the improved success rate that is associated with franchising.
Hence if you have burned your finger at your first venture and now have taken swear not to do it again. Try this franchisee option, May this second inning worth playing and maybe after a handful year of experience you may launch your own franchise chain. Who knows it may be the next big thing!
Best or latest franchise opportunities in India:
Let us look at the latest franchise opportunities available within India. Franchising your business is surely a proven route to rapid growth. Many business owners dreamt of seeing their brand success and become a household name in the current scenario.
Food and Beverages: The Indian food industry is continuously expanding and yet is ready for huge growth. In India, the food sector has been emerging as a high-growth and high-profit yielding sector.
Education Sector: The Indian education market is going to almost double to the amount of $180 billion by 2020. It is featured by the rapid expansion of the digital learning market and the world's largest population in India in the age bracket of six to 17 years.
Healthcare Sector: The Indian healthcare industry is at zooming phase. It will surely grow over the coming decade.
Real Estate sector:  In India, real estate is the second largest employer after agriculture. It is expected to grow by 30 percent over the next decade.
Tours and Travels: The main reason behind the growth in this industry is because of the increasing number of visitors in India
How to find franchise opportunities in India: Why AKT Associates
Once we have decided to invest in franchise opportunities in India, the next challenge will be to find out the authenticated franchise opportunities within India.
We here at AKT Associates have a growing list of franchise opportunities in India and abroad. Each franchise has its own unique details about the franchise and the opportunities available. We will provide you vision to view the available business opportunities by our expert advice. Remember the experience and knowledge we have acquired over the years is available to you by our expert advisors.
Services provided by us
1) Search & Evolution of Franchisee opportunities:- Purchasing a Franchise is a vital decision and it is very important that you take advice from an Expert. Whilst many people consider that any firm will do, we, here at AKT Associates believe that it is important that you consult a firm that specializes in commercial and Franchising Law. A specialist Franchise Firm will have Professional experts who will be well equipped with up to date legislation at their fingertips and their years of practice in the related field will guide you all the way throughout the process.
2)  Legal Consulting on Franchisee:-We, here at AKT associates will manage and check out many aspects on your behalf from studying and scrutinizing the franchise agreement to examining through tenancy agreements. Whilst most of the Franchise Agreements are described and specified in details it is important that you fully comprehend the Agreement that you are going to sign and the obligations and limitations that are mentioned and contained therein. It is suggested form us that you should take assistance from legal experts. Don't cut corners or try to ignore consultation It is for your benefit to seek advice from the professionals to understand the fine prints before you sign it.
3) Due Diligence, Negotiation, and Documentation: – You can count on us for doing required due diligence, negotiating terms and doing documentation to protect your interests in the franchise agreements
Every year, millions of people across the globe execute business at franchises for anything from fashion to fast food. Many enthusiastic entrepreneurs open their own franchises every year to take advantage of the brand reputations and the support of manufacturers. With the support system of an experienced Consulting firm like AKT Associates behind you, you can assure that the game's fair play.